Good Things Come In Small Packages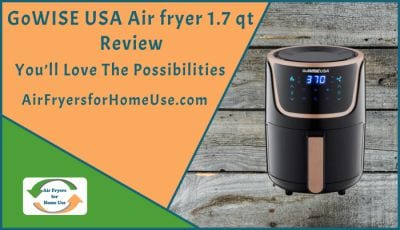 If you're looking for a discreet air fryer, you can't go wrong with the GoWise USA Air Fryer 2-Quart with Digital Touchscreen. Big, bulky appliances on your countertop can be a waste of space if you don't use them regularly. This air fryer takes up very little space and has many of the same great features of larger air fryers that you will really enjoy.
One of the best features of this air fryer is its portability. It can easily be used in RVs or even college dorms. So if your kids are heading off to college soon, this air fryer will make a great gift. Speaking of features, let's take a look at them.
Main Features of the GoWISE USA 1.7-Qt Air Fryer With Digital Touchscreen
Easy on Your Electric Bill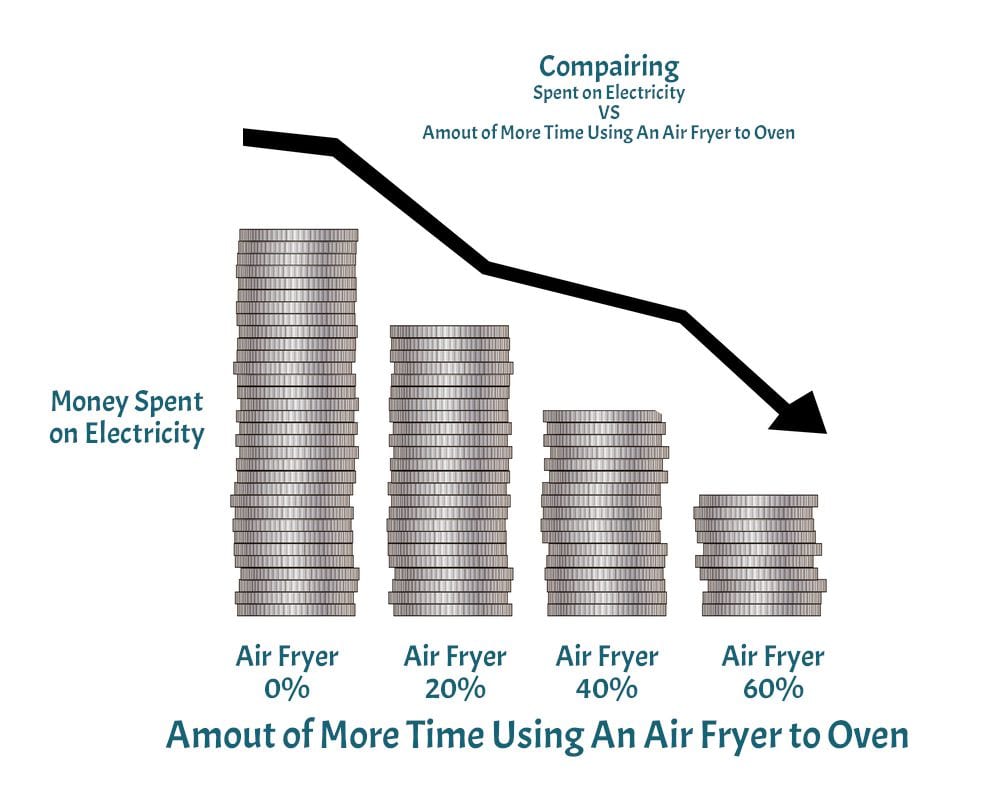 In general, air fryers don't use a lot of electricity. In fact, they reduce cooking time by 25%. The amount of electricity used depends on the size and wattage of your air fryer.
The electricity savings with an air fryer is also due to the fact that the space inside is much smaller than a traditional oven. So your food cooks faster, usually within 12-15 minutes.
A Downloadable Recipe App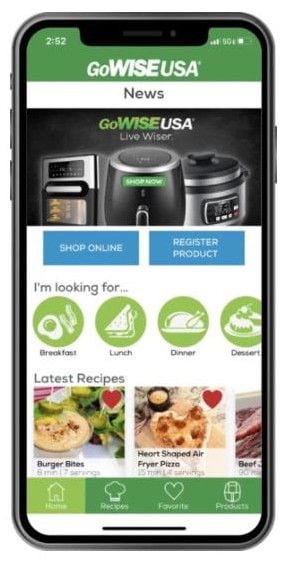 Discover new recipes by downloading the
GoWISE Creations App
directly to your phone. You can save all your favorite recipes, rate and share recipes, and add notes. New recipes are added every week.
PFOA-Free Non-Stick Coated Basket
The non-stick coating on the basket and pan inside is PFOA-free. Perfluorooctanoic acid (PFOA), previously used in non-stick coatings, can cause the coating to chip. Fortunately, PFOA is not used in GoWISE air fryers.

Let's take a look at the specifications of GoWISE USA Air fryer 2-qt with digital touchscreen:
Air Fryer Dimensions:
Air Fryer Weight:
Sizes:
Oven Size (Volume):
No of Persons Designed For:
Colors:

Black/Silver
Black/Copper
Mint/Silver
Red/Silver

Analogue/Digital:
Dishwasher Safe:

The parts in this product are not recommended for the dishwasher. GoWISE recommends that the parts be hand washed in hot soapy water. The inside of the air fryer should be wiped out with a dry cloth to remove any food stuck to the inside.

Manufacturer:
Min/Max Temp:
Timer:
Wattage:
Safety Features:

On/Off/Pause button
PFOA-free non-stick surfaces

Cooking Ability:
Rotisserie / Self-stirring:
Customer Service:
Support Phone: 
Warranty:
Accessories:
Manuals 
Here's What We Like
Holds Up To 2 Quarts
The GoWISE USA 2-quart air fryer can do more than just make french fries. It holds up to a half-pound of vegetables, a large potato, two corn on the cob, two chicken breasts, and more. Check out the recipe book for great recipes.
Set It and Forget It
One thing parents will love is that once you set the timer, you can do other things while your food cooks. So if you're preparing lunch for your kids in the morning, you can set this air fryer to cook chicken nuggets while you get breakfast for the kids. You can also pause the cooking process and adjust the time or temperature or both.
Adjustable Time and Temperature
The GoWISE USA 1.7-quart air fryer features an easy-to-view LCD control display with five function settings: air fry, toast, reheat, frozen food and keep warm. Each function is adjustable in both time and temperature. Time can be set in one-minute increments up to 60 minutes. Temperature can be set in five-degree increments between 150°F-400°F.
50-Page Recipe Book
In the GoWISE Air Fryer recipe book, you'll find recipes for mac & cheese toasties, hot wings, bacon-wrapped shrimp, avocado fries, vegetables, corn on the cob, potatoes, and more.

You can also explore the many recipe demonstrations by visiting the GoWISE USA YouTube channel.
Maintains Settings During A Power Outage
If the power goes out while you are using the air fryer, the settings will be retained for up to two hours. This also applies if the appliance is accidentally disconnected from the mains.
Additional 60-Day Warranty
Register your air fryer online within 14 days of purchase and you'll receive a 60-day extended warranty. All you have to do is sign up on the website.
Here's What We Don't Like
Temperature/Time Preset
Every time you cook with this air fryer, you have to remember to change the temperature and cooking time. The air fryer automatically defaults to 370°F for 15 minutes. This will add a few extra seconds to set up your air fryer to cook but it shouldn't be a deal-breaker.
Not Recommended For The Dishwasher
To keep your air fryer clean, it is recommended that you wash the basket and crisper inside with a non-abrasive sponge, dish soap, and hot water. For hard-to-remove foods, soak them in hot water. Clean the appliance by hand only. Do not wash any parts in the dishwasher.

Even if the product is stated as dishwasher safe, I would still advise that you wash it by hand. The new dishwasher tablets have harsher chemicals which may damage the non-stick coating.
White Smoke
This appliance may occasionally produce white smoke. This can happen when you air fry very greasy food and you use a temperature above the grease smoke point. The grease runs into the basket and causes white smoke. This can also happen if the basket inside has not been cleaned properly.
Location Is Important
Air fryers should not be placed on countertops made of artificial stone, as they are not heat resistant. GoWISE recommends using a non-artificial tile or silicone base.
Granite and Quartz Countertops
If you have a granite or quartz countertop, do not place an air fryer near or on a seam. The vents for this particular air fryer are on the bottom. The heat from the vent can damage and split the seam of your countertop.
Wrap Up
There's a lot to love about this little air fryer, but keep in mind that it's only made for two people. The GoWISE USA Air fryer 2-qt with digital touchscreen is also a great addition for families with young children who don't have the same palettes as their parents. It's a great companion for traveling in an RV or anywhere space is limited. Good things can come in small packages
For more of the 6 Top Rated Air Fryers for 2-3 People currently available, you can check out this post.