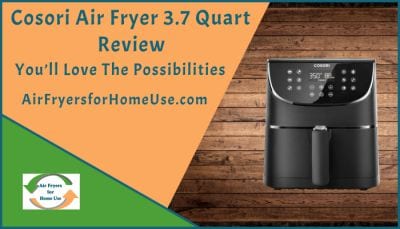 Sometimes it's hard to justify buying an air fryer. The first thing you might think of is counter space. The second thing you may think about is whether you will use it enough to justify the purchase. In this article, we'll take a look at the Cosori Air Fryer 3.7 quart. This is a medium-sized air fryer that can prepare snacks as well as whole meals. Some people may find that the power cord is a bit short. But I suspect that this is a standard-length power cord. Features include optional accessories and more presets than other air fryers. This air fryer is so useful that many owners use it more than their oven.
Because of its versatility and features, we give this product a 9.5/10.
You'll be impressed with the number of pre-settings for your food so read on.
Features of the Cosori 3.7 Quart Air Fryer
Reddot Award Winner
The Cosori Air Fryer is the 2019 winner of the Red Dot Design Award. The Red Dot Design Award is given for exceptional design concepts, product design, brands, and communication design. The Cosori air fryer was awarded in the product design category.
It also qualifies as an Amazon's Choice product. This means that it is a trusted and popular brand with Amazon customers, in stock, ready to ship, and has a low return rate.
You should understand that as a consumer, you still need to do your due diligence. Good reviews left on Amazon products can sometimes be fake. Amazon has taken steps to ensure that reviews are genuine, but some will undoubtedly get through.
Optional Accessory Bundle
When you purchase the Cosori 3.7-Quart Air Fryer through Amazon, you can purchase a bundle that includes accessories. The accessories include (1) cake pan, (1) pizza pan, (1) multi-purpose rack with 5 skewers, (1) metal holder, (1) silicone mat, and (1) egg bite mold with a lid.
The accessories also fit other Cosori air fryers like the 5.8 quarts. They can also be used in other models like GoWISE USA, Philips, Instant Pot, and Ninja to name a few.
The accessory pack can also be purchased separately from Cosori or Amazon, just in case you need it later.
Shake Reminder
When preparing foods such as French fries, the Cosori 3.7 Quart Air Fryer beeps five times halfway through the cooking cycle to remind you to shake or flip your food.
Fahrenheit and Celcius
This air fryer can be programmed to cook in either Fahrenheit or Celsius. This is to accommodate U.S. and Canadian customers.
11 One-Touch Pre-settings
This appliance has 11 preset cooking programs that automatically set the temperature and time for specific foods. The presets include steak, chicken, frozen foods, bacon, seafood, shrimp, vegetables, root vegetables, desserts, bread, fries, and, of course, the preheat function. Now let's take a look at the specifications.
Specifications
Air Fryer Dimensions:

13.3 x 10.7 x 12.2 inches

Air Fryer Weight:
Pan size:

Basket dimensions: 7.5 x 7.5 x 3.5 inches

Oven size (Volume):

The space inside is large enough to cook a small chicken.

No of Persons Designed For:
Colors:
Analogue/Digital:
Dishwasher Safe:

The basket and tray are dishwasher safe making this air fryer very easy to clean. I would recommend hand washing to avoid damaging the non-stick coating.

Manufacturer:
Min/Max Temp:
Timer:

The timer can be manually set for up to 60 minutes.

Wattage:
Safety Features:

Automatic shut-off: The air fryer shuts off after 3 minutes of inactivity. This prevents overcooking and burning. The air fryer also shuts off automatically if it overheats. The handle feels cool to the touch.

Cooking Capabilities:

You can cook a variety of foods in this air fryer. Cook frozen foods, raw vegetables, seafood, meat, and poultry. You can even bake desserts and bread.

Rotisserie/Self-Stirring:

There is no rotisserie feature available and no self-stirring. However, the air fryer has a Pause Function that allows you to shake or stir your food halfway through cooking. The air fryer will blink until you press the button to resume cooking.

Customer Service:
Warranty:
Accessories:
Instructional Manual:
Here's What We Like
Extended Warranty
The air fryer comes with a one-year warranty. You can extend the warranty for an additional year by registering your new air fryer online here. An easy way to get a 2-year warranty.
Extended Recipe Book
Other air fryers typically include up to a 50-page recipe book, but the Cosori 3.7 Air Fryer includes a 100-page recipe book. You can also join the CosoriCooks Facebook group.
Contact The Chefs
Cosori has made sure that there are plenty of resources available when using your air fryer. If you have any questions about recipes or what you can/cannot cook, contact them by email: recipes@cosori.com or call toll-free: 888-402-1684.
BPA and PFOA Free
Bisphenol A (BPA) is an organic compound that has been used in plastic products and plastic coatings. Perfluorooctanoic Acid (PFOA) is another compound used in plastics and non-stick cookware. Both of these compounds have been linked to cancer and other health problems. BPA and PFOA are not used in Cosori air fryers.
Here's What We Don't Like
Short Cord
The power cord may seem shorter than usual. It is about 40 inches long. This should be long enough to reach an outlet on your countertop. If you want to use this appliance in an apartment, mobile home, RV, or dorm room, this could be a problem.
Food Smells and Tastes Like Plastic
To prevent your food from smelling or tasting like plastic, make sure you remove all of the packaging. This includes lifting the basket and removing the foam layer between the basket and tray. Before using your air fryer for the first time, follow the set-up instructions and give it a test run.
Flimsy Release Button
There have been some complaints that the release button is too flimsy and breaks easily. The release button separates the inner basket from the outer basket and is made of plastic.
NOTE: before pressing the release button, first pull the basket and tray out and place on a flat surface. Only then should you press the release button to lift the basket out of the tray.
Warning
I feel like I need to mention something here. When researching this product, some complaints mentioned that the packages came without inner packaging to protect the air fryer. Some customers also mentioned that the air fryer that was delivered appeared to be used.
If you order this product from Amazon, be sure to check if it is new or used and follow the seller's information.
Wrap Up
With a medium-sized air fryer like the Cosori Air Fryer, you have the best of both worlds. You can make small meals for kids or snacks for movie nights. But you can also prepare your main meals in it. And the 40-inch cord shouldn't be a deterrent. That length should easily reach an electrical outlet.
The best thing about the Cosori 3.7 quart air fryer is its versatility. There are so many dishes you can prepare in it, from french fries to small cakes. You won't mind making a little space for this appliance. For these reasons, I give this a 9.5/10 rating. For more of the top air fryers currently available, please check out our post, 6 Top Rated Air Fryers for 2-3 People.
Have you used the Cosori 3.7 quart air fryer before? I'd love to hear about your experience so please leave a comment below.