Secura 3.4 Qt Air Fryer Review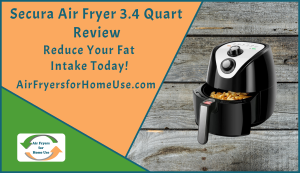 It's no secret that air fryers are a great way to reduce fat in your diet. Another benefit is that the food cooks quickly and evenly. In this Secura Air Fryer 3.4 Quart review, we'll take a look at whether the features outweigh the one thing you should look for in this air fryer. So let's get started.
This reasonably priced air fryer is ideal for a small family of 2-3 people. Thanks to its small size, it does not take up much space on the kitchen counter. It is also suitable for use in a mobile home, RV, or even in a dorm room.
But don't let the size fool you. Even though it's smaller than its larger cousins, it can still prepare a variety of snacks and entire meals.
The hot air circulation means food is cooked more evenly and can usually be cooked faster. Another benefit is that you use little or no oil, making this a healthy alternative to fried foods. But let's talk about the accessories.
Air Fryer Dimensions: 13 x 11 x 12"
Air Fryer Weight: 11.88 pounds
Pan size: Basket dimensions: 7.5" x 4.25"
Oven size (Volume): 3.4 quart/3.2 liter; large enough to cook a small chicken
No of Persons Designed For: This product will suit a small family of 2-3 people
Colors: Black only
Analog/Digital: Analog
Dishwasher Safe: The basket is non-stick and dishwasher safe. However, we recommend hand washing the basket, pan, and other parts. Harsh dishwasher detergents can damage the non-stick surface.
Manufacturer: Secura; manufactured in China
Min/Max Temp: 180oF-400oF
Timer: Maximum 60-minute timer
Wattage: 1500 watt/ 110 volts
Safety Features: Overheat protection: the unit automatically shuts off when cooking is finished
Cooking Ability: Bakes, roasts, fries, and grills
Rotisserie/Self-stirring: Not available with this unit
Customer Service:
Phone: (888) 792-2360
Phone: (888) 792-2360 or email: CustomerCare@thesecura.com
Warranty: 2-year limited warranty
Accessories: User's Guide with recipes
Instructional Manual: Secura Hot Air Fryer User Manual
Pros:
Non-stick detachable basket and tray for easy cleaning
Two separate dials to adjust time and temperature
2-year Manufacturer's Limited Warranty: guarantees that the product is free from defects under normal use for 2 years after the date of purchase.
Automatically shuts off if the pan is removed during the cooking process
Quieter than other air fryers
Heats up to the desired temperature within 3 minutes
Cons:
The handle may become loose over time
The basket lock can be temperamental and, in some cases, maybe faulty
The timer can become faulty over time
Only 7 recipes are included in the User's Guide
Poor customer service has been indicated in some instances
What is the BPA Status?
I feel like I need to mention something here. In my research, I did not find any indication that this product is actually BPA-free. In case you do not know what BPA is, let me explain. BPA (Bisphenol A) is an organic compound used in plastics. This compound has been linked to certain cancers and other health problems. When the company was contacted directly, they confirmed that the product is BPA-free. Since BPA is not specifically mentioned in the product information, I thought you should know.
Wrap Up
This is a small air fryer suitable for preparing small snacks and meals for up to three people. The accessories are an added bonus, giving you more cooking options. It is large enough to prepare entire meals and small enough to prepare a variety of snacks.
It's also very versatile. You can use it in many different places as long as you have power. There is, however, a question mark behind the BPA status of this air fryer. Usually, companies are very proud of their BPA-free status and include it in their documentation. This might be a concern for you, especially if you are cooking for your family.
So what do you think about it? Are you tempted to buy the Secura 3.4 Quart Air Fryer? Maybe you already have one. If so, please leave a comment below and share your experience with us.
You can also check out our post 6 Top Rated Air Fryers for 2 to 3 People of 2021 to find other top-rated 2-3 person air fryers.
Join over a
million people
Who Have joined the revolution of Healthy Eating.
In 2018, because of Diabetes Type 2, I joined the march to reducing the amount of oils and fat  that my family was consuming by purchasing an Air Fryer !
In 2019-2021 with the help of our Air Fryer, my wife has gone from Diabetes Type 2 to Prediabetes and is no longer using insulin !
Yes Debbie is still off of Insulin as of Nov. 2021