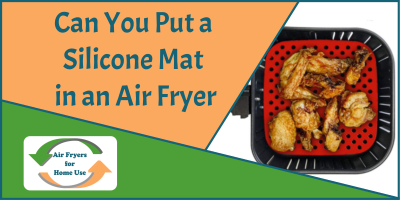 There are many heat-resistant materials used in cooking and baking products these days. Silicon cooking products have made a big impression on both professionals and amateurs. When it comes to using your air fryer, we'll answer the question: can you put a silicone mat in an air fryer?
The answer is a big fat YES. And there are many reasons why you will love using a silicone mat in your air fryer. We'll take a look at how to choose a silicone mat, how to clean them,  and why you should use them, as well as other uses so read on.
Why Use a Silicone Mat in an Air Fryer
Once you buy a liner or two, you'll find that using a silicone mat in your air fryer is very cost-effective. They can be reused over and over again. They are also very durable and easy to clean. There's less waste as well. You won't have to keep buying parchment paper or parchment paper liners so you'll save money. 
Using a silicone mat doesn't mean you won't have crispy food. In fact, you may find that these liners work better than using aluminum foil or parchment paper. 
How To Choose A Silicone Basket Liner 
Sizing is crucial when choosing the right silicone liner. Liners come in a variety of sizes and shapes such as squares, rectangles, and circles. Make sure that your liner doesn't block air from circulating. Note the shape you need. Then measure the diameter of the basket.  This information will be helpful when you buy a liner.
Depending on the types of food you cook, you may want to use perforated mats in your air fryer. 
8 Steps On How to Use a Silicone Mat in an Air Fryer 
Before you use a silicone mat, make sure it's the right size. To use a silicone mat:
Preheat your air fryer if necessary
Spray a small amount of oil on the liner
Place the mat in the basket or on the rack
Place food on the mat
Push the basket into the air fryer 
Once your food is cooked, remove the food from the basket
Remove the silicone mat
Wash the basket or rack with hot soapy water
Do the same with the silicone mat or place it in your dishwasher
Using a silicone mat is much easier than using parchment paper and much less wasteful. 
How to Clean Silicone Pot Mats?
The beauty of using silicone mats is that they are so easy to clean. Just pop them in your dishwasher. They are dishwasher safe. If there's a lot of food or grease stuck to the mat, you may want to rinse it off first.
Alternatively, if you prefer, you can handwash them with hot soapy water at the same time you clean the air fryer basket or tray used and leave them to dry.
Do Silicone Perforated Mats Keep Food From Sticking?
Definitely! And it is clearly one of the best features of using silicone mats. They are especially useful if you have a wire basket or tray. They make cleaning much easier, too. 
Why Are Air Fryer Silicone Mats Perforated?
This is to allow air to flow freely around your food to provide for even cooking. Even though the mat is perforated, it will catch most of the drippings or grease that is released from the food you cook. 
7 Reasons to Use Perforated Silicone Liners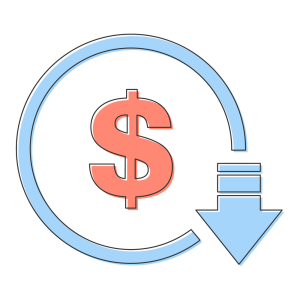 Easy Food Removal: The silicone mats are non-stick so they keep food from sticking to the mat, racks, and trays.
Great Protection: Liners can help to extend the life of your air fryer by protecting the basket, racks, and trays.
Dishwasher Safe: Since the mats are dishwasher safe, all you have to do is remove it from the air fryer and place it in your dishwasher.
Cost-Effective: Because these liners are made of silicone, you can reuse them over and over again.
Multiple Uses: These liners are oven safe and can be used in a toaster oven, regular oven, convection oven, pressure cooker, and even a microwave oven. You can even use them in place of potholders for hot pots and hot trays of food. You can also put them under your air fryer to protect your countertop.
Easy to Store: The liners are lightweight, flexible, small, and thin making them very easy to store in the smallest kitchen.
BPA-Free: Silicone liners are BPA-free and free of toxic materials, latex, phthalates, and lead so they are very safe to use. 
Conclusion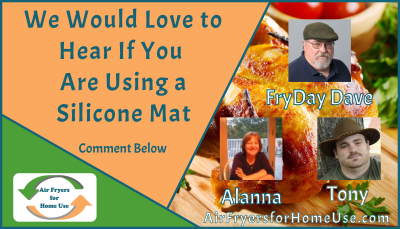 One of the worst things about owning an air fryer is the clean-up. Grease and food drippings can hide in places you can see and can make cleaning a real chore. Silicone mats are a must when using your air fryer. They are very versatile, heat resistant, reasonably priced, easy to clean, and easy to store. 
Have you ever tried using silicone mats in your air fryer? Do you have perforated ones? What has been your experience? Or if you have any Air Fryer Questions. Let us know by leaving a comment below.
Frequently Asked Questions